Sam Berns in How to Keep Positive and Moving Constantly Forward
This little guy is a bad ass! Sam has progeria and he is 17 years old. This was a pretty good talk, he seemed a bit nervous during the middle of this talk, but WOW he has really come a long way and has some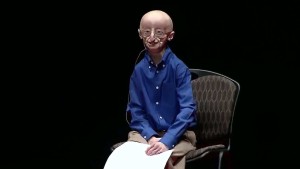 very solid advise that can be utilized by. One point I liked about this was the he sounds very similar to Sean Stephenson in the Ted Talk the Prison of Your Mind. It seems more and more people that have "disabilities" keep coming out and exclaiming that "You should not pitty me!".
I really look up to these individuals as they give me hope, courage, strength and inner wisdom to live my life to fullest and that everything is possible. The main points of life:
Happiness, Excite and Love can be had by every single person on this planet, no matter what!
See for yourself!
PS: Even though Sam passed away in 2014 in Jan, I believe his quote saying that he believes he can change the world has come true. The inspiration of his life should echo through out history influencing more individuals to live their life to the fullest and not be afraid of what comes in life!
-Nathan J Scheer
Honorable SEO